We Let Our Customer's Glowing References Speak for Us

The best way to choose anything is to ask those you trust for a recommendation. The references on this page are all from genuine customers who needed little or no persuading to leave a reference for us.
You might also like to check Visitor Posts on our Facebook page for other unsolicited references.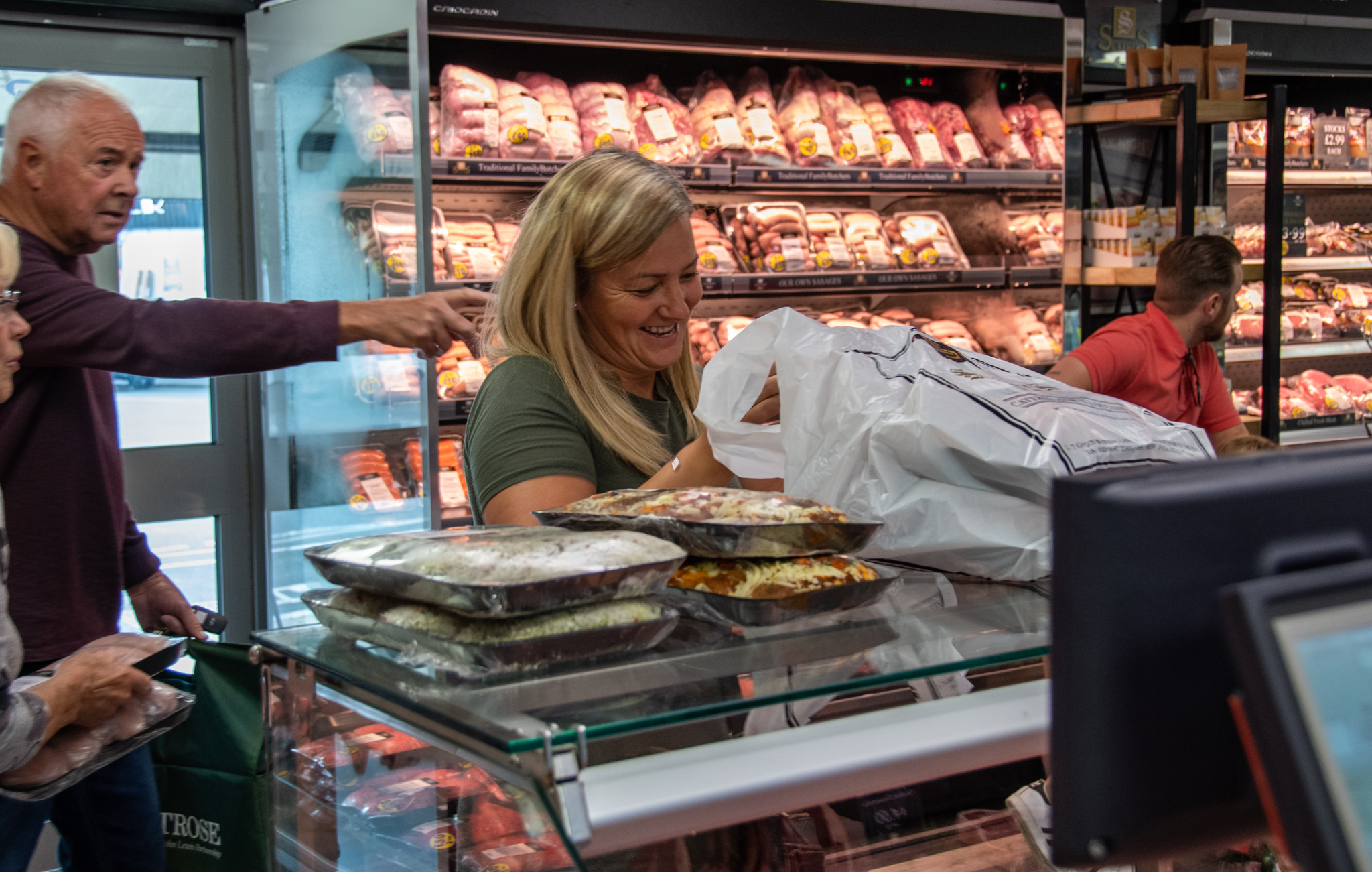 Here's What People Have to Say About Us

When Alan and his team at Scotts of Carshalton approached our catering brief for our launch 'Meet the Manufacturer' this year we immediately knew we were in safe hands. Working within a Grade Listed building at the Truman building, Brick Lane, London, we needed to ensure we operated with a professional and reliable team; Scotts delivered a first class service. The team, quality of food and attention to detail in display made our conference buffet look colourful and inviting and offered a wide selection of foods for all our delegates dietary requirements, served by his friendly team.

Our VIP guests also enjoyed their amazing, wide selection of tasty canapés and drinks served at our evening reception. We would have no hesitation recommending Scotts of Carshalton and very much look forward to working with Alan and his team again for future events.
Alan Dye and his team at Scotts have worked on many events for me and the outcome has always been outstanding. Not only is the quality of their food unbeatable but it is supported with beautiful presentation, the friendliest staff and first class service. Indeed we are very much looking forward to Scotts of Carshalton catering our forthcoming New Years Eve and sampling their hog roast which we have heard from friends who are also regular customers is absolutely mouth watering and from our experience Scotts never disappoint!
I write to confirm that Scott's of Carshalton is a current member of the Scotch Butchers and was accepted into the club on 5th November 2004. In order to become a member of the club a butcher must be able to prove that they are sourcing Scotch Beef PGI, Scotch Lamb PGI or Specially Selected Pork from a QMS assured processor.

As part of being a Scotch Butchers Club Member, the shops are audited on an annual basis to check that they are complying with the rules of the club, the most important being that they are continuing to source Scotch Beef PGI, Scotch Lamb PGI or Specially Selected Pork Products.
I would like to support and recommend Scotts of Carshalton as an excellent supplier and operator in the food service area.

Scotts and Alan Dye has been a real business supporter to Rational over the years whilst working close to us on many events from Wembley Arena to live cooking demonstrations where Alan has taken care of all the food preparation, serving and cooking.

Rational have worked with Alan and Scotts for well over 5 years and he is our first port of call when it comes to special events and when we need the best quality and service.

Scotts of Carshalton are one of Rational's reference stories and this information is given out country wide to help support Rational in winning businesses  and painting a picture of the customer's experience.
We would recommend Alan and Scotts of Carshalton.
Marieveles have worked with Alan Dye and Scotts Catering since 1999. We have a fantastic working relationship and have seen both of our businesses grow over the years. We have managed functions large and small from private clients to large corporate events. We only recommend Scotts Catering as we found Scotts to be the most adaptable and professional company with nothing but great feedback every time from our clients.

Marieveles Marquees are proud to be business partners with Scotts and are happy to recommend their wonderful services.
We have used Scotts of Carshalton on a number of occasions for privately held functions with a minimum of at least two hundred people at each function. On every occasion they have been a pleasure to work with from the initial set up meetings to delivery.

Alan Dye and his team are polite, professional and always get the job done. We would not have any hesitation in recommending their catering services
Scotts of Carshalton have catered for numbers events for our company including our yearly dealer launches and have always delivered outstanding service, presentation and delicious food which is second to none.

The owner, Alan Dye helped to make all occasions extra special with his professionalism, attention to detail and making sure everything was as perfect as can be. The fruit displays and the quality of the food captures everyone's attention and gets everybody talking and we will definitely be using them again in the future.
Alan and his team at Scotts Catering have been instrumental in some of our finest functions for almost 10 years. Alan has always made himself available personally to discuss our requirements whether they be large or individual. He has always worked the event along with his team and takes great pride in what he does with great attention to detail and very much a 'can do' attitude.

We have always used Scotts for conference lunches for large groups and smaller bespoke events such as training centre events for our staff and clients, company picnics/BBQs/hog roasts in addition to our Christmas staff party amongst other memorable functions.

The Christmas Party in particular many of our staff still talk about, stating that it was the 'best year ever. Alan and his team are professional, cheerful and helpful even when faced with challenging environments and always manages to provide great quality food.
I have great pleasure in recommending Alan Dye and Scotts of Carshalton. He has worked on many large vehicle launches and events for us and handled the pressure greatly along with his team who gives us great service, good and present it in a way that gets everyone talking. We received such good feedback on the quality of Scotts that they have also gone on to cater for some of our managers personally. Not only is their food of the highest quality but they also offer a wealth of knowledge in the industry to create something to suit our tastes, with each member of staff professional and attentive to each and every guest.

Scotts of Carshalton is definitely first choice for us and we could not recommend them enough for making every event extra special.
Scotts have catered for us since 2004 and we have been very happy with the service, variety and quality of the food that they supply. They have not only supplied food for our meetings but also for our larger events and Christmas parties every year. We trust Alan with his expertise and professional advice and we are confident and delighted to carry on using Scotts Catering Services.
We are pleased to say that we have dealt with Scotts for many years and Alan Dye is always our first point of call. We supply fresh fish to many catering companies but Scotts Catering is our first choice for our own catering. We feel that they are best equipped when handling large events and always deliver whilst still managing to keep a smile on their faces. We have always been impressed with the high quality of their food and presentation and the whole event is made stress free with Alan overseeing everything down to the smallest details. We would not hesitate in recommending Scotts to everyone who is planning any event large or small and are more than confident that they will deliver everything and more.
The Carshalton Water Tower, a Grade 2 Listed Building hosts many prestigious functions and has used Alan Dye of Scotts Catering on many of these occasions. We have always found the standard of catering first class and Mr Dye and his staff to be reliable, helpful and sensitive to working in a Heritage environment.

We would recommend Scotts of Carshalton without hesitation.
We have pleasure in writing this reference regarding Scotts of Carshalton. Alan Dye and his company have worked at the Manor/School in respect of Wedding Receptions and other events over many years. Alan and his staff have always worked with us ensuring that the Grade 1 Listed Great Hall is treated with care and consideration. Alan Dye's communication with us prior to, during and after an event are second to none, we would always welcome Scotts of Carshalton to carry out any function or event within Carew Manor.

I do hope the above clarifies their professionalism, quality and high end service to their current and future clients.
We have used Scotts Catering on many occasions for our Product Launches and Company Functions. They have catered for approximately 500 people and the food has been excellent and their service faultless. We would have no hesitation recommending them and can only praise the professional service that they offer.
Scotts have provided catering for Design Plan at two corporate events for up to 200 people. We have always been extremely pleased with the service provided by Scotts. From start to finish the professionalism is evident. Alan Dye provides the personal touch by visiting at the concept and overseeing the event to achieve the standard which precedes Scott's reputation. The quality of food is always of a high standard and the presentation is eye catching and imaginative. Alan seems to think of everything, Scotts leave our premises spotless and you'd never know we had had a full hog roast and BBQ on our site! Our events have involved Scotts being onsite all day and the staff have been discrete, polite and friendly.

We are grateful to Scotts for making our events successful and the compliments on the food are repeated after each occasion. We intend on using Scotts for future events as we are certain of an excellent catering service.
Over the last two years, my staff and I have developed an extremely good working relationship with Alan and his staff and Scotts Catering has become our main supplier for our catering needs. Although the Manor House is an exclusive functions venue, the majority of our functions are predominantly Wedding Receptions. These are tailor made to suit our client and Alan has always been available to discuss each and every event. Using his knowledge and experience, we were able to offer our clients the best choices at competitive rates. Meals prepared by Alan and his staff have been of the highest quality albeit a 20 guest dinner party or 200 guest Wedding Reception in a marquee. His staff are knowledgeable, adaptable, reliable and hard working. They worked closely with my staff at the Manor House and have formed a good working relationship.

I would have no hesitation in recommending Scotts Catering and we are very happy with their service.
Alan Dye and Scotts have worked for me personally for many functions as well as catering for our company. We have always been more than happy with the quality of the food, the presentation and the service. Alan and his team always provide a personal touch. I am happy to recommend Scotts of Carshalton.
The trust has used Scotts Catering on many occasions over the years for a number of Trust events, and staff Christmas parties. No matter how big or small the event has been, or the size of the budget, Alan and his team has continually delivered a professional and superb service. The beautifully presented food has always been of the finest quality, demonstrating such culinary skill and technique. Feedback received from my colleagues following any event where Scotts have provided the catering has been very positive and complimentary. Alan has always made the time to meet with us to discuss our requirements ensuring that the menu meets the dietary needs for all of our guests.

I would highly recommend Scotts Caterers and Alan for anyone requiring first class catering for their event.
We would love to add your comments to the list of references for us on this page
If you are a happy Scotts customer who would like your response to this list of references, please use the Contact Us  form and enter References in the Subject field.
Stay informed with special offers And discounts